Haridwar "gateway to the land of gods" is a very pious city. The moment you enter this city, you'll be welcomed by a very holistic vibe. This city is religiously very significant as the holy river Ganga enters the plains of Indian lands from this city. Haridwar is one of the four important pilgrimages of the Hindu religion. The great Kumbh Mela is celebrated here after every 3 years. The next Maha Kumbh Mela will be held in Haridwar in the year 2022. One can visit Hindu temples and ashrams and get lost in the vibes of the almighty. Visiting yoga or Ayurveda centers can help one fill purified and light. The ambiance of the chanting mantras impacts the soul of the listener and the person is filled with positivity.
Even those who want to do something thrilling on their trip can travel to Rishikesh from Haridwar which is at a distance of 20 km. Rishikesh will offer some of the best adventurous activities for the thrill-seekers like bungee jumping, river rafting, etc. Here are some of our suggestions for locations to visit to make your trip auspicious.
Har Ki Pauri Haridwar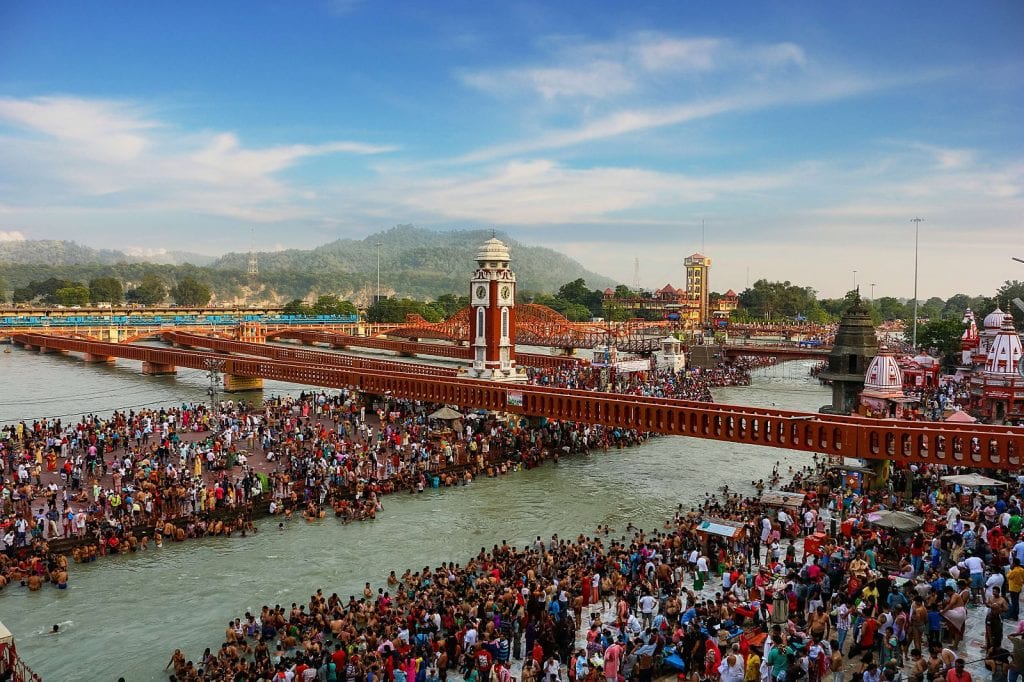 Har Ki Pauri is a major place and a famous ghat on the side of river Ganga in Haridwar. A center place is an attraction among devotees in Haridwar. Har ki Pauri is believed to be the place of exit of the holy river Ganga from the mountains. Ganga Aarti takes place in 'Brahmakund' of Har ki Pauri, the location where it is believed that the Amrit fell on earth. The biggest fair of Hindus, Kumbh, and Ardh Kumbh also take place at Har Ki Pauri. Kumbh Mela takes place after every 3 years in rotation with the other Ghats holding the Kumbh every 3 years that are Ujjain, Nasik, and Allahabad (Pryagraj).
Ganga Aarti
Haridwar is famous for Har ki Pauri and its Ganga Aarti. Ganga Aarti means worship of Ganga. The priest holds large fire bowls in their hands, the bells in the temples at the Ghat start ringing and the chants of mantras flow out in the air. People float diyas, with flowers on Ganga.
The shadow reflects on the river and the lighting diyas on the flowing Ganga looks so glorious that cannot be expressed in words. It is a very fascinating experience to participate in the Ganga Aarti performed in the evening at Har Ki Pauri. This place is famous for its Ganga Aarti at dusk among tourists as well as devotees.
Visiting and participating in such events is suggested for all the visitors. It brings so much peace and calms to the mind and heart, that can only just be experienced and not be expressed. Timings of the Aarti are: –
Morning – 5:30 am to 6:30 am
Evening – 6:00 pm to 7:00 pm
Mansa Devi Temple
Mansa Devi temple is the temple of Goddess Mansa Devi at Bilwa Par vat near Haridwar. Goddess Mansa is believed to be a form of Shakti, emerged from the mind of sage Kashyap. This location also offers some great views of Haridwar city. It is one of the trios of the sidhpeeth in Haridwar with Chandi Devi and Maya Devi. Mansa Devi temple can be reached by either a 3 km trek from Haridwar or by a ropeway also known as Mansa Devi udankhatola.
Chandi Devi Temple
Chandi Devi temple is located at the top of Neel hill near Haridwar. Goddess Chandi is believed to be a sidhpeeth. Where it is believed that the desires of the devotees get fulfilled. The distance of this location is about 4 km from the city of Haridwar. this temple is believed that it was established in the 8th AD. The present-day structure was constructed by the kin of Kashmir Suchan Singh. To reach Chandi Devi temple either one can take a steep trek of 4 km or by a ropeway known as Chandi Devi udankhatola. The temple remains open from 6 am to 8 pm.
Shantikunj Haridwar
Shantikunj is a world-renowned ashram and headquarters of All World Gayatri Pariwar (AWGP), located in Haridwar. Established in 1971 by Pundit Sriram Sharma Acharya, Shantikunj is a major attraction in Haridwar among visitors in search of spirituality. It has now several million followers and is visited by some great personalities like Dalai lama, Murai Bapu, etc. It is located at motichur, Haridwar.
Activities at Shantikunj
Study of bhagavad Gita, Upanishad, Hindi and Sanskrit.
Daily bhajan and Aarti.
Patanjali Yogpeeth Haridwar
Patanjali Yogpeeth is a medical and research institute in Yoga and Ayurveda. this is Making Haridwar a popular spot to visit for Ayurvedic treatment and medication. Established in 2006 by Yog Guru Ramdev, it is named after Maharishi Patanjali who believe to be the inventor of Yoga. Its run by Patanjali Yog Peeth (UK) Trust. It performs several activities and services like treating patients through Ayurveda in hospitals, laboratories, research centers, and other facilities such as canteen, ATM, etc. it is located 15 km from Haridwar and it takes about 40 mins to reach the destination. It can be reached by bus or taxi from Haridwar or Roorkee.
Chilla Range
Chilla wildlife sanctuary is a huge wildlife reserve near Haridwar on the east side of river Ganga. It is combined with the sanctuary of motichur and Rajaji national park. One can capture some great views of the Ganga as well as the Himalayas from here.
It is located at a distance of 10 m from Haridwar and shows cases best of the wildlife. One can rent a jeep and go on 2.5 hours of jeep safari to observe to fauna. It will be a wonderful addition to the visit to Haridwar.